How Do Dentures Stay in Place?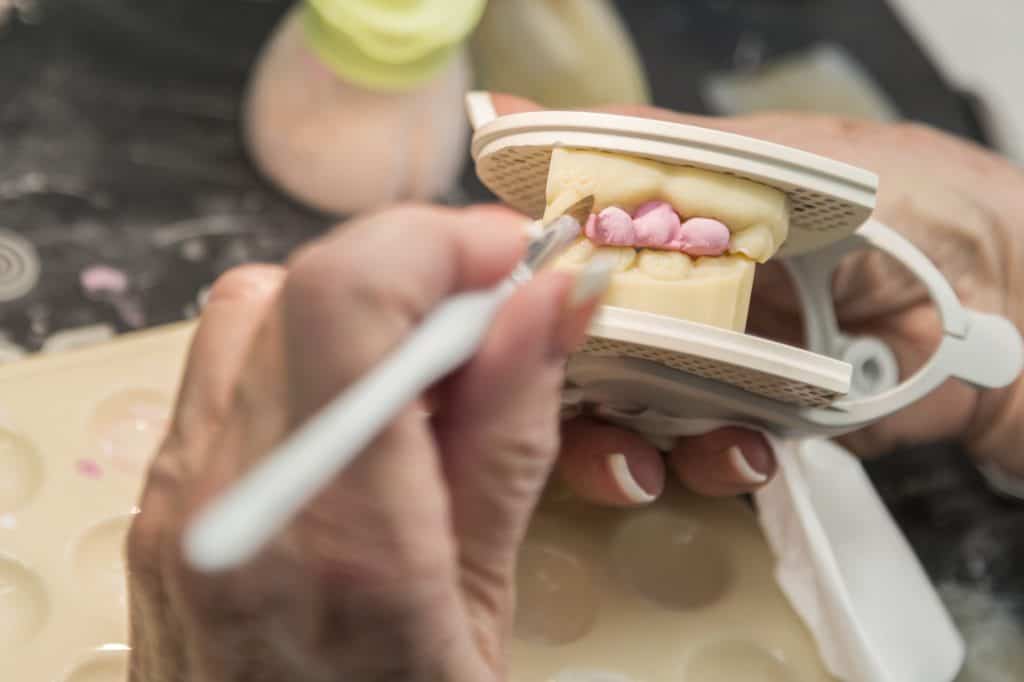 When considering dentures, many patients are concerned about them falling out of their mouth at an embarrassing time — like when speaking with friends or eating dinner with the family. It doesn't help that many representations of dentures in popular culture use exactly these scenarios in order to make a joke.
The good news that with the latest technology, a properly fitted denture shouldn't slip or fall out. Your denturist will evaluate your oral health and help you choose the best product to keep your dentures secure in your mouth.
Let's examine a few ways dentures use the natural shape of your gums and jaw to stay in place.
Partial Dentures
Partial dentures provide support to your remaining teeth and fill in any gaps caused by missing teeth. The denture simply clasps on to your remaining teeth to keep it firmly in position. These dentures are quite secure on their own, as they make use of your teeth's deep roots. You can also get dental implants that act like anchors for the partial denture.
Complete Dentures
Complete dentures rely on the thin layer of saliva between the denture, jaw bone, and gums. They used the natural shape of your jaw to hold them in place — although you may want to consider using a zinc-free denture adhesive to provide additional security.
Complete dentures don't have the support of your natural teeth so they may require some practice before they feel natural in your mouth. 
Lower Suction Dentures
Lower suction dentures are one of the newer technologies in the denture world. They're specifically designed for your lower jaw and as the name implies, they rely on suction to keep them in place. Lower suction dentures are an excellent choice for patients who have lost all their lower teeth and want a more secure fit without surgical implants. 
With that being said, lower suction dentures may not work for every patient — they largely depend on the shape and structure of your lower jaw. Be sure to ask our knowledgeable professionals if lower suction dentures are right for you. 
Dentures Over Implants
If you're looking for the most secure dentures possible, you'll want to consider dentures over implants. These use surgically implanted anchor points for your dentures to latch onto and significantly reduce the chances of them coming loose or falling out. 
These are a popular choice for patients who have lost most or all of their teeth as they completely restore your smile and allow you to eat more of the foods you crave.
Dentures over implants feel closest to your natural teeth — they also stimulate your jawbone which can reduce the rate of bone resorption. These dentures tend to be long lasting because they're the more secure, comfortable, and need fewer adjustments than other types on this list. 
Denture Adhesive
Lastly, many patients add more security to their dentures by using a high-quality denture adhesive. Adding a high-quality denture adhesive to your toolbelt is an easy way to achieve greater comfort — especially if you're new to dentures. 
Be sure to clean your dentures properly if you choose to use denture adhesive because it's sticky — food and debris can become caught and cause irritation if not cleaned thoroughly. 
Get Secure & Comfortable Dentures Today
The right solution can often vary significantly from patient to patient. If you're interested in learning more about secure and comfortable dentures, contact The Denture & Implant Centre today to find the best option for your health & budget.