Gum Disease & Dental Hygiene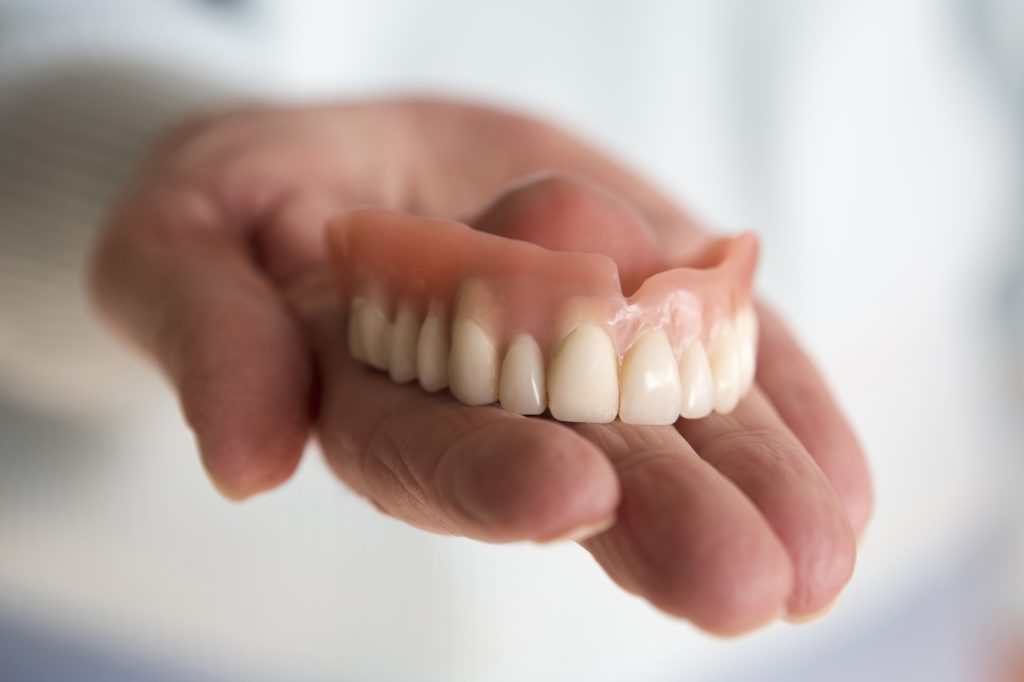 Dentures, like natural teeth, require maintenance and daily cleaning. If a patient allows bacteria to build up on their dentures it could lead to bad breath, inflammation, infection, and gum disease.
Small daily habits are the key to maintaining a healthy smile and gums. When we begin to skip flossing, brushing, and visiting the dentist — it could lead to long term problems. 
Today, we're going to examine gum disease (also known as periodontal disease), what causes it, and how you can proactively take steps to prevent it. 
Gum Disease
According to the National Institute of Dental and Craniofacial Research, gum disease is an infection in the tissue surrounding our teeth caused by poor flossing and brushing habits. 
These bad habits allow bacteria to harden — in later stages, hardened bacteria (known as tartar) can cause sore and bleeding gums, pain, and tooth loss. 
There are two primary forms of gum disease: gingivitis and periodontitis. Both types of gum disease are fairly common and can be prevented or treated with improved hygiene.
Let's examine the two types of gum disease in more detail.
Gingivitis
Gingivitis is the milder of the two types of periodontal disease and is usually characterized by red and irritated gums. However, if left untreated, it can lead to more serious forms of gum disease.
Patients may not even notice they have gingivitis if their symptoms are mild. It can often be corrected with more frequent brushing, flossing, and adding antiseptic mouthwash to their oral hygiene routine.
Periodontitis
If left untreated, Gingivitis can lead to a much more serious type of gum disease: periodontitis. 
Periodontitis can destroy the roots of your teeth, jawbone, gums, and other oral tissues. If bacteria, plaque, and tartar spread too far below the gum line, it eats away at the support structures of your teeth. 
The gums fall away from the teeth and the teeth may become loose or need to be removed. Other diseases, like heart attacks and strokes, are also related to periodontitis. 
Common symptoms associated with periodontitis include swollen, tender, and bleeding gums, new spaces between teeth, loose teeth, pus, and a bad taste in your mouth. 
Prevention
The good news is that both gingivitis and periodontitis are both entirely preventable. With a strong oral hygiene routine, you can prevent bacterial buildups that could lead to gum disease.
Make sure you're brushing your teeth at least twice a day and flossing once a day. Adding a mouthwash to your routine may also help kill harmful bacteria. 
Another great idea is to get your teeth cleaned professionally every six months. Dental hygienists can catch and remove any buildups of plaque and tartar before they become problematic.
Visit The Denture & Implant Centre
If you're concerned about gum disease, the best thing you can do is visit one of our oral health care professionals. 
We can recommend the best products for your specific situation and help you take a proactive approach to oral health and gum disease. 
Schedule an appointment with The Denture & Implant Centre today!
Summary
Article Name
Gum Disease & Dental Hygiene
Description
Dentures, like natural teeth, require maintenance and daily cleaning. Small daily habits are the key to maintaining a healthy smile and gums.
Author
Publisher Name
The Denture & Implant Centre
Publisher Logo